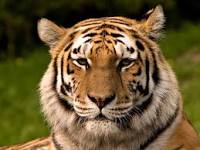 International Tiger Day
---
International Tiger Day, also known as Global Tiger Day, is an annual celebration to raise awareness for tiger conservation, held annually on 29 July. It was created in 2010 at the Saint Petersburg Tiger Summit.The goal of the day is to promote a global system for protecting the natural habitats of tigers and to raise public awareness and support for tiger conservation issues.(wiki) We have lost 97% of all wild tigers in a bit over 100 years. Instead of 100,000, as few as 3,200 live in the wild today.
A number of Tiger species have already been extinct. Tigers may be one of the most admired animals, but they are also vulnerable to extinction. Surveys show India currently has 1706 tigers. Tigers lost 93% of their natural habitat due to the expansion of cities and agriculture by humans. Fewer tigers can survive in small, scattered islands of habitat, which lead to a higher risk of inbreeding. These small islands of habitat also make tigers more vulnerable to poaching.
One of the world's largest tiger populations is found in the Sundarbans—a large mangrove forest area shared by India and Bangladesh on the northern coast of the Indian Ocean. This area harbors Bengal tigers and protects coastal regions from storm surges and wind damage. However, rising sea levels that were caused by climate change threaten to wipe out these forests and the last remaining habitat of this tiger population.
According to a WWF study, without mitigation efforts, projected sea level rise—nearly a foot by 2070—could destroy nearly the entire Sundarbans tiger habitat.
---
This post contains the Environment and Health current affairs of August 2013. These are short Environment and Health current affairs 2013 notes for quick review.
Incoming Search Keywords
1. Environment and Health News for Competitive Exams
2. Environment and Health News for Bank Exams
3. Environment and Health News for UPSC and PSC Exams
See more under Environment and Health News