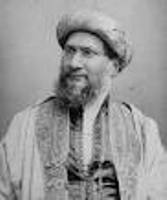 Badruddin Tyabji (1844-1906) was the third President of the Indian National Congress. He was the first Muslim to become the President of Indian National Congress. He passed the London Matriculation and became the first Indian Barrister in Bombay in 1867. He accepted a Judgeship of the Bombay High Court in 1895. In 1902, he became the first Indian to hold the post of Chief Justice in Bombay. He was known as a great Judge and for his courage and impartiality, typically shown by his granting bail to Tilak in a sensational case after it had been rejected thrice by others. Tilak had been charged with sedition by the government for what it saw as provocative articles in his paper, Kesari.
In July 1871, he was prominent in the agitation for an elective Bombay Municipal Corporation, and topped the list of those subsequently elected on that body. From then on, Badruddin Tyabji, Pherozeshah Mehta and Kashinath Telang were popularly known as "The Triumvirate", "The Three Stars", of Bombay's public life. In 1885 he helped to found the Bombay Presidency Association and virtually ran it all by himself. Soon afterwards, the Indian National Congress held its first session in Bombay and Badruddin and Camruddin (his brother) were among its delegates. Urgent business prevented their attendance, which their opponents exploited, alleging that Muslims were boycotting the Congress. Badruddin vigorously denied this, declaring that he had 'denounced all communal and sectarian prejudices." He missed the second Session also due to ill health, but was unanimously elected President of its third Session in Madras (1887).
He campaigned against "Purdah" all his life, holding that it went far beyond the Quranic injunctions. His was the first Muslim family to discard it; his daughters were the first to be sent abroad for education. He supported the Age of Consent Bill (1891), despite Hindu and Muslim opposition. On Badruddin fell the main burden of counteracting the Two-Nation theory. Among Muslims, Badruddin was the first to create a secular political consciousness; and nationally he was a pioneer in making it the Indian ideal.
Age of Consent Act, 1891
The Age of Consent Act, 1891 was a legislation enacted in British India which raised the age of consent for sexual intercourse for all girls, married or unmarried, from ten to twelve years in all jurisdictions, its violation subject to criminal prosecution as rape. The death of an 11-year-old Bengali girl after being brutally raped by her 35-year-old husband Hari Mohan Maitee in 1889 served as a catalyst for its legislation. While Hindu law permitted intercourse with minors, colonial law considered sex with wives only under ten as rape. Therefore, Hari Mohan Maitee was acquitted on charges of rape. Tilak opposed the bill on the grounds that this was not an issue for the British but Hindus to decide. Orthodox Hindus argued that it violated Hindu rite "garbadhan," which obligated Hindu girls to have intercourse with her husband within sixteen days of her first period.
You might also interested in