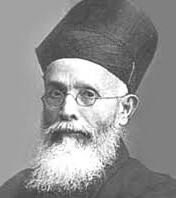 Dadabhai Naoroji (1825–1917) known as the Grand Old Man of India, was a Parsi intellectual, educator, cotton trader, and an early Indian political leader. His book Poverty and Un-British Rule in India brought attention to the draining of India's wealth into Britain. He was a Member of Parliament (MP) in the British House of Commons between 1892 and 1895, and the first Asian to be a British MP. He is also credited with the founding of the Indian National Congress, along with A.O. Hume and Dinshaw Edulji Wacha. In 1867 Naoroji helped establish the East India Association, one of the predecessor organizations of the Indian National Congress with the aim of putting across the Indian point of view before the British public. This Association soon won the support of eminent Englishmen and was able to exercise considerable influence in the British Parliament.
In 1874, he became Prime Minister of Baroda and was a member of the Legislative Council of Bombay (1885–88). He was also a member of the Indian National Association founded by Sir Surendranath Banerje from Calcutta a few years before the founding of the Indian National Congress in Bombay, with the same objectives and practices. The two groups later merged into the INC, and Naoroji was elected President of the Congress in 1886.
Later Naoroji moved to Britain once again and continued his political involvement. Elected for the Liberal Party in Finsbury Central at the 1892 general election, he was the first British Indian MP. In his political campaign and duties as an MP, he was assisted by Muhammed Ali Jinnah, the future Muslim nationalist and founder of Pakistan. In 1906, Naoroji was again elected president of the Indian National Congress. Naoroji was a staunch moderate within the Congress, during the phase when opinion in the party was split between the moderates and extremists. Naoroji was a mentor to both Gopal Krishna Gokhale and Mohandas Karamchand Gandhi. He published Poverty and un-British Rule in India in 1901. It offered a scathing criticism of the economic impact of British rule.
You might also interested in