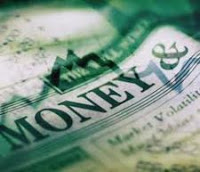 RBI sells dollars to arrest rupee's slide; first time since Lehman Brothers
The Reserve Bank of India joined central banks in Indonesia and South Korea in selling US dollars to save the local currency from a sharp slide as investors fled for safety amid worsening sovereign crisis in Europe and deteriorating outlook for emerging economies. The Indian central bank sold dollars for the first time since Lehman Brothers triggered credit crisis to avert disorderly movement in the currency as it fell to its worst levels in two years. A depreciating rupee may compound the macroeconomic problems as prices of imported goods will surge and worsen the current account deficit. India won't be able to take advantage even if commodity prices ease due to global slowdown.
Kudumbashree, National Rural Mission to sign pact for services (ET)
Kerala-based, all-women micro-lender Kudumbashree will soon sign a pact for providing consultancy services to the National Rural Livelihood Mission with the objective of scaling up this flagship programme of the Rural Development Ministry. The micro-lender, credited for revolutionising Kerala's rural economy in 90s, is involved in rural economy development, one of the core principles of Gandhian philosophy, which envisages every village being a self-sustained unit. It was launched in 1998 as a joint programme of the Kerala government and the National Bank for Agriculture & Rural Development to remove absolute poverty through concerted community action under the leadership of local self-government bodies. It is one of the largest women-empowerment projects in India today, with four million women members, and covers over 50 per cent of Kerala households. Kudumbashree runs 2.3 lakh neighbourhood groups. Each group has 10-20 poor women as its members and an average Rs 40 is collected every week from each of them.
Rupee hits 50 against Dollar (ET)
A bad news for Indian imports business and government. A weak rupee would push up the fiscal deficit further. India imports around 70% of its requirement of crude oil and the government will have to pay more for it in rupee terms. Due to the control on oil prices, the government may not be able to pass on the high prices to the consumers. This strains its finances and leads to an increase in fiscal deficit. Also, higher oil prices would also push up inflation, which is perilously close to the double-digit mark. Companies will also have to pay more in rupee terms for their raw materials, despite the fall in global commodity prices, due to a depreciating rupee. More importantly, a weak rupee could negatively impact FII flows into the Indian markets.
Greece on the verge of debt default
Greece owes around $400 billion in debt, of which it has to pay $123 billion by 2014. Country is on the verge of a default and steps being taken by the Euro Zone to bail it out have not yielded much result. Greece's national debt has ballooned and is bigger than its economy, making its economic condition critical. Rating agency Standards and Poor's rates Greece as 'triple C' - the lowest in the world due to its inability to cope up with the ongoing economic crisis.
Operation Twist (HBL)
The US Federal Reserve launched its new initiative "Operation Twist" with the main aim of reducing long term interest rates, promoting lending and stimulating the economy. Under Operation Twist, Federal Reserve will replace $400 billion of short-term debt in its portfolio with longer-term treasuries in an effort to reduce borrowing costs and counter rising risks of a recession. The central bank will buy securities with maturities of 6-30 years, while selling an equal amount of debt maturing in three years or less. The avoidance of QE3 is the best thing to have happened. The additional money that was being printed was only fuelling speculation in commodities and currencies. This had led to inflation spiking up and impacting consumer sentiment.
ECB window (PTI)
External commercial borrowing is a channel through which Indian companies can borrow money from foreign banks and institutions. Indian companies have borrowed close to $21 billion through the ECB window between January and July this year, against a total of $18 billion in entire 2010. This facility was allowed for a short term after the global financial crisis. The falling value of the rupee may impact hard the profitability of Indian companies which have tapped overseas loans, and their bottom-lines are likely to take a hit of over $2 billion this year.