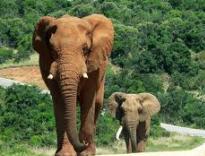 The National Forest Policy 1988 aims for 33% of the country's geographical area under the forest cover for ecological and environmental security. While aiming to expand the forest cover in the country, it is equally important to improve the state and quality of existing forests and protect them against various threats and drivers of degradation. The threats to forests include encroachments, forest fires, illicit felling for timber and firewood, grazing, diseases and incursion of weeds and other invasive species, etc. The staffs also face threats of illegal felling of trees from organized forest smugglers / timber mafia and encroachments form land mafia.
With a view to minimizing fire hazards and controlling forest fires a Centrally Sponsored Scheme "Integrated Forest Protection Scheme" was launched during the 10th plan period. In 2009, the Integrated Forest protection Scheme (IFPS) has been revised and renamed "Intensification of Forest Management Scheme" (IFMS).
Main components of Intensification of Forest Management Scheme (IFMS) are:
1. Forest Fire Control and Management
2. Strengthening of Infrastructure for forest protection
3. Working Plan Preparation/ Survey and Demarcation
4. Protection and conservation of Sacred Groves
5. Conservation and Restoration of Unique Vegetation and Ecosystems
6. Control and Eradication of Forest Invasive Species
7. Preparedness for Meeting Challenges of bamboo Flowering and Improving Management of Bamboo Forests
Steps in the scheme help to in curbing the encroachment. They are:
1. Survey & demarcation of forests and preparation of working plans (GPS),
2. Creation and maintenance of Fire lines and water harvesting structure,
3. Engagement of fire watchers during fire seasons,
4. Providing firefighting equipments,
5. Wireless and communication network,
6. Providing fire arms to the frontline forests protection staff,
7. Training and capacity building of forest staff,
8. Increasing mobility of frontline staff by providing vehicles,
9. Construction of watch towers , forest roads and offices and residential buildings for staff,
10. Awareness campaigns and involvement of local communities.