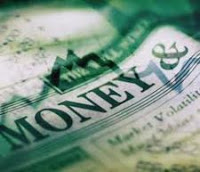 On 24 May 2012, Indian Rupee breached the Rs 55 per dollar mark and closed at 55.47 - its all time low against dollar. The rupee has depreciated by over 20 per cent to close to 55-a-dollar mark currently from its near 44-level against the US currency at the end of May 2012 due to sustained dollar demand from banks and importers in view of the firm dollar sentiment fueled by Euro zone crisis.The weakening of Indian rupee against other foreign currencies,especially dollar, is not a good news for Indian government and importers. A depreciating rupee may compound the macroeconomic problems as prices of imported goods will surge and worsen the current account deficit. India won't be able to take advantage even if commodity prices ease due to global slowdown.
Why is rupee depreciating?
The ongoing rupee weakness is basically due to the European crisis coupled with crisis in domestic economy. Due to the up trending crisis in Europe, large banks, investors and financial institutions started selling euro and bought dollar, thus dollar appreciated against all major currencies including rupee. Domestic economy adds fuel to this crisis due to stagnant economic reforms and increasing current and fiscal deficits.
Cheerful news for Exporters
When a currency depreciates, the exporters make more profit because they get more of the local currency for every unit of foreign currency though the quantity of trade remains unchanged. The depreciating rupee will be positive for the Indian IT sector who generate more than 85 per cent of their $70 billion revenue from the overseas markets and this kind of appreciation in foreign currency will enhance their actual realisation of revenue in dollar terms.
Good News for Indian Expatriates from US and Arab countries
Expatriates living outside India in US and Arab countries gain by rupee depreciation. Since rupee depreciated from 43 to above 60 against dollars. remittance of 1000$ now makes Rs.17000 more for an Indian residing in US.
Inflation graph and Fiscal deficit to scale up
India is suffering from a nearing two digit inflationary pressure. A depreciation rupee will add fuel to this.It leads to high inflation, as India imports around 70 per cent of its crude oil requirement and the government will have to pay more for it in rupee terms. Due to the control on oil prices, the government may not easily pass the increased prices to the consumers. Further, this higher import bill will lead to rise in fiscal deficit for the government and will push the inflation.
A blow to Indian Importers
India import industry will also have to pay more in rupee terms for procuring their raw materials, despite drop in global commodity prices, only because of a depreciating rupee against dollar. Corporate India is a net borrower of dollar and to that extent a depreciating rupee impacts its balance sheet adversely. Companies with foreign debt on their books are badly impacted. With the rupee depreciating against the dollar, these companies will need more rupees to repay their loans in dollar. This will increase their debt burden and lower their profits. Obviously, investors would do better to stay away from companies with high foreign debt.
Negative impact on FII flows to Indian market
Rupee depreciation is a huge risk for FIIs who are planning to invest in India. If an FII invest $10000, it can buy stock worth Rs 550000 @ current market price. Consider a scenario where after 1 year, the stock of FII made no loss, no profit and rupee depreciated to 60 against dollar. On stock sale the FII would get Rs 550000, but while converting to dollars, it ends up in loss.
Negative impact on Indian students and travelers abroad
Individually, traveling abroad becomes more expensive as travel cost can go up by around 15 per cent compared to last July figures. Students studying abroad too will be hit as more rupee will go out to pay for the courses, stay and other expenses.
Latest News on Rupee Depreciation
19 August 2013: Rupee breaches 63; down 148p in decade's biggest drop: The rupee today breached 63-mark a dollar to end at record low of 63.13, recording the decade's worst single-day fall of 148 paise, heightening fears that more capital control steps could be in the offing. The previous biggest fall in decade was the 124 paise or 2.57 per cent plunge on September 22, 2011.
24 May 2012 :
Rupee slumps to an all time low of 55.47 against US Dollar
The rupee slumped to a record closing low of 55.47 against the dollar as the US currency strengthened after rating company Fitch downgraded Japan's sovereign credit rating, citing rising public debt.
To reduce such volatility in the market, RBI on Monday instructed banks to reduce their positions on the currency exchanges to $100 million or 15% of their total OTC (over the counter) market exposure. It was the third instruction from the Indian central bank to lenders to reduce their currency market exposure. Also RBI has been selling dollars in the market to arrest the depreciating rupee. Between September and March, RBI had sold more than $20 billion in the spot market and close to $3.5 billion in the forwards market, according to RBI data.
23 Nov 2011 : Rupee at all time low of 52.73 against US Dollar.
The Indian rupee dropped by 58 paise to a lifetime low of 52 rupees 73 paise against the US dollar on November 22 on persistent demand for the American currency from banks and importers, amid sustained foreign capital outflows from the equity market. Meanwhile Finance Minister Pranab Mukherjee has said that the Reserve Bank of India is keeping a close eye on the value of rupee against dollar. The deputy governor of Reserve Bank of India, Subir Gokaran said that the rupee depreciation is moving as per market dynamics and the fall in the value of the rupee will particularly impact India's energy import bill. Mr. Gokaran