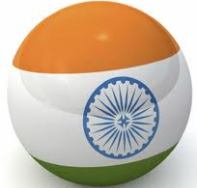 India plans to increase the share of renewable power
India plans to increase the share of renewable power in the electricity mix to 15 per cent by the year 2020. An action plan has already been developed that aims at accelerating the deployment of renewable energy with a target of around 30 GW of renewable power by the end of 2017. Currently India stands among the top five countries of the world in terms of renewable energy capacity and renewable power represents about 12 per cent of total installed electricity generation capacity in India. Apart from that around 1.1 million Indian households are already using solar energy to meet their lighting energy needs. Jawahar Lal Nehru National Solar Mission is the flagship program of India which aims to facilitate the installation of 20 GW grid-connected solar power, 20 million sq. m of solar thermal collector area and 20 million rural households with solar home lighting by 2022. Along with solar energy, wind energy continues to contribute significantly to India's renewable energy matrix and with over 17 GW installed capacity.
Ghazal Maestro Mehdi Hassan passed away
84-year-old ghazal maestro, Mehdi Hassan died in a Karachi hospital following multi-organ failure. He was one of the last icons representing the shared cultural heritage of India and Pakistan and admired by millions across the border. Hassan was born into a family of traditional musicians at Luna village in India's Rajasthan state in 1927. Hassan's family migrated to Pakistan at the time of Partition in 1947 when he was just 20 years old. His early life was full of hardships, where is started working in a bicycle shop. He got his first break on Radio Pakistan in 1957.
Backward Regions Grant Fund
The Backward Regions Grant Fund (BRGF) aims to catalyze development in backward areas of India. It was approved by the Govt in 2006. The fund has two components, namely, District Component covering 250 backward districts in 27 States and State Component which includes Special Plan for Bihar, Orissa, and West Bengal, Integrated Action Plan(IAP) for Selected Tribal and Backward Districts and Bundelkhand Package. The implementation of the programmes is being done by the State Governments. The aim of the programme is to accelerate socio-economic development in the States concerned.
Child Survival Call to Action Forum
This forum was co-convened by the representatives of India and United States during the Indian ministerial delegation visiting the US. The forum aims to raise global awareness of child survival challenges. It celebrated the 70% reduction in child mortality over the past half-century and established a global roadmap to end preventable child deaths in a generation. Secretary-General's 'Every Woman Every Child' is a new initiative for the global movement to end preventable child deaths. Both countries took the 'Commitment to Child Survival' Pledge on the occasion.
V S Sampath took over as new CEC
V S Sampath has assumed charge as the 18th Chief Election Commissioner (CEC) succeeding Dr. S.Y. Quarishi. Speaking on other priority areas of Electoral reforms, the new CEC said that the "Commission will strive for the early implementation of electoral reforms which are key for putting an end to criminalization of politics and undue influence of money power in electoral arena". On tackling the use of money power in elections Sh. Sampath said "Our objectives will be two fold – to ensure legal expenses like rally, poster, banner, vehicles etc are kept within the ceiling limits, while simultaneously ensuring that illegal expenses like bribing the voters with cash or kind is effectively prevented".
India rejected S&P report
The Finance Ministry rejected the S&P recent report suggesting that India could be the first BRIC country to falter. Recently S&P had issued India's sovereign credit rating in April, 2012 reaffirming India's long-term sovereign credit rating at BBB(-). However, in this month it revised India's outlook to negative from stable. The Finance Minister Shri Pranab Mukherjee said that the Foreign Institutional Investors (FII) have Reposed faith in the Indian economy and had already poured in net USD 12 billion in the first five months of the current calendar year as against an FII inflow of USD 8.3 billon in the full calendar year 2011. The Finance Minister said that this is the highest net FII inflows in the last five years for the corresponding period.
Through this session, currentaffairsindia.info presents the most capsuled form of Government releases which help you to understand various govt schemes, its stand in various national and international affairs, upcoming policies, various statistics of central and state governments etc. You can access all the latest posts related to this session from PIB releases 2012. These news are collected from the official press information bureau web site of Govt of India.