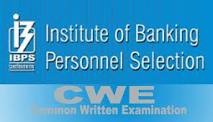 About Common Written Examination (CWE PO/MT-III)
---
The next Common Written Examination (CWE PO/MT-III) as a pre-requisite for selection of personnel for Probationary Officer/ Management Trainee posts in the Participating Organisations listed below will be conducted online by the Institute of Banking Personnel Selection (IBPS) tentatively in October 2013. Any eligible candidate, who aspires to join any of the Participating Organisations listed at (A) as a Probationary Officer/ Management Trainee or in a similar post in that cadre, is required to register for the Common Written Examination (CWE PO/MT-III). Candidates who appear and are shortlisted in the examination, will subsequently be called for a Common Interview to be conducted by the Participating Organisations and coordinated by IBPS.
About Common Written Examination (CWE PO/MT-III) 2013
---
This system of Common Written Examination, interview and allotment for recruitment of Probationary Officer/ Management Trainee posts in Participating Organisations has the approval of the appropriate authorities. IBPS, an autonomous body, has received a mandate from the organisations mentioned at (A) below, to conduct the recruitment process as mentioned above, once a year.
Participating Banks
---
Educational Qualification
---
Degree with 60% marks in any discipline from a recognized University or any equivalent qualification recognized as such by the Central Government. The percentage of marks stipulated for the Educational Qualification is for General (Unreserved) Category Candidates. Candidates belonging to the Reserved Category (SC / ST/ PWD), filling in vacancies reserved for the relevant category, will be entitled to a relaxation of 5% marks in relation to that stipulated for General Category candidates.
Candidates belonging to SC / ST/ PWD categories filling in "unreserved" vacancies will not be entitled to the above referred relaxation. Computer Literacy: Operating and working knowledge in computer systems is mandatory i.e. candidates should have Certificate/Diploma/Degree in computer operations/Language/ should have studied Computer / Information Technology as one of the subjects in the High School/College/Institute.
Eligibility Criteria
---
Nationality / Citizenship: A candidate must be either -
(i) a Citizen of India or
(ii) a subject of Nepal or
(iii) a subject of Bhutan or
(iv) a Tibetan Refugee who came over to India before 1st January 1962 with the intention of permanently settling in India or
(v) a person of Indian origin who has migrated from Pakistan, Burma, Sri Lanka, East African countries of Kenya, Uganda, the United Republic of Tanzania (formerly Tanganyika and Zanzibar), Zambia, Malawi, Zaire, Ethiopia and Vietnam with the intention of permanently settling in India.
Age (As on 01.07.2013): Minimum: 20 years Maximum: 28 years i.e. a candidate must have been born not earlier than 02.07.1985 and not later than 01.07.1993 (both dates inclusive). Relaxations are there as per rules.
How to Apply
---
Candidates can apply online only from 22.07.2013 to 12.08.2013 and no other mode of application will be accepted
Important Dates
---

Official Notification Link
---
source: www.jobalerts4youth.com