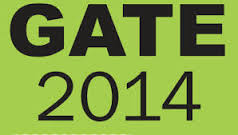 The categories of candidates eligible to appear for GATE 2014 are given in Table below. Necessary supporting documents must be sent along with the printed version of the online application by speed/ registered post to the respective Zonal Offices. Please study the following table carefully and make sure that your year of qualification is not later than what is specified. Before starting the application process, the candidate must:
1. Ensure that you meet the eligibility criteria (given below) of GATE 2014.
2.Determine the GATE paper you wish to appear for. A candidate is allowed to appear in only one paper.
3. Choose the City of choice to appear for the examination: There are three choices, in the order of preference. The candidate can choose a particular city as the first choice for appearing GATE 2014 examination.
Eligibility for GATE 2014
---
Qualifying Degree : B.E./B.Tech/ B.Arch/ B.Pharm.
Qualifying Degree/Examination : Bachelor's degree in Engineering/ Technology/ Architecture/ Pharmacy (Post-Diploma/ Post B.Sc./4 years after 10+2)
Description of Eligible candidates : Currently in the 4th year or already completed
Year of Qualification cannot be later than: 2014
Copies of Certificates to be submitted : Degree Certificate/ Provisional Certificate/ Course Completion Certificate/ Certificate from Principal.

Qualifying Degree : B.S
Qualifying Degree/Examination : Bachelor's degree in Science (Post-Diploma/ 4 years after 10+2)
Description of Eligible candidates : Currently in the 4th year or already completed
Year of Qualification cannot be later than : 2014
Copies of Certificates to be submitted : Degree Certificate/ Provisional Certificate/ Course Completion Certificate/ Certificate from Principal.

Qualifying Degree: M.Sc./M.A./ MCA or equivalent
Qualifying Degree/Examination : Master's degree in any branch of Science/ Mathematics/ Statistics/ Computer Applications or equivalent
Description of Eligible candidates : Currently in the final year or already completed
Year of Qualification cannot be later than : 2014
Copies of Certificates to be submitted : Degree Certificate/ Provisional Certificate/ Course Completion Certificate/ Certificate from Principal.

Qualifying Degree: Int. M.E/ M.Tech(Post BSc)
Qualifying Degree/Examination : Post-BSc Integrated Master's degree programs in Engineering/ Technology (Four year programme)
Description of Eligible candidates : Currently in the 2nd/3rd/4th year or already completed
Year of Qualification cannot be later than : 2016
Copies of Certificates to be submitted : Degree Certificate/ Provisional Certificate/ Course Completion Certificate/ Certificate from Principal.


Qualifying Degree : Int. M.E./M.Tech or Dual Degree (after Diploma or 10+2)
Qualifying Degree/Examination : Integrated Master's degree programs or Dual Degree programs in Engineering/ Technology (Five year
programme)
Description of Eligible candidates : Currently in the 4th/5th year or already completed
Year of Qualification cannot be later than : 2015
Copies of Certificates to be submitted : Degree Certificate/ Provisional Certificate/ Course Completion Certificate/ Certificate from Principal.

Qualifying Degree: Int. M. Sc/ Int. B.S.-M.S.
Qualifying Degree/Examination : Integrated M.Sc. or Five year integrated B.S.-M.S. program
Description of Eligible candidates : Currently in the final year or already completed
Year of Qualification cannot be later than : 2014
Copies of Certificates to be submitted : Degree Certificate/ Provisional Certificate/ Course Completion Certificate/ Certificate from Principal.


Qualifying Degree: Professional Society Examinations(equivalent to B.E/B.Tech/B.Arch)
Qualifying Degree/Examination : B.E/B.Tech/B.Arch. equivalent examinations, of Professional Societies, recognized by MHRD/ UPSC/ AICTE (e.g. AMIE by
Institution of Engineers-India, AMICE by the Institute of Civil Engineers-India)
Description of Eligible candidates : Completed Section A or equivalent of such professional courses
Year of Qualification cannot be later than : NA
Copies of Certificates to be submitted : Degree Certificate/ Provisional Certificate/ Course Completion Certificate/ Certificate from Principal