About Institute of Banking Personnel Selection
---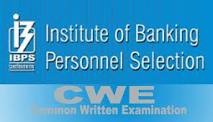 The journey of IBPS began in 1975, just after nationalization of banks, as Personnel Selection Services (PSS), a unit of National Institute of Bank Management (NIBM). The objective was to develop an unbiased and efficient system for recruitment, promotion and placement services. This prototype initiative was extended to provide these services with all the academic and operational inputs to the banking industry initially which now has been extended to non-banking sectors as well. In 1984 this unit became an independent entity – Institute of Banking Personnel Selection (IBPS) at the behest of Reserve Bank of India (RBI) and Public Sector Banks. The first Chairman of its Governing Board was Dr Manmohan Singh, the then Governor of RBI.
About IBPS CWE Specialist Officers Exam 2013
---
"Banking in India is graduating from general to specialized." The sector therefore needs specialist officers in various fields like IT, Technical, Agriculture, Legal, Marketing, HR, etc. Having successfully held similar examinations, IBPS will conduct CWE on behalf of following 19 banks, for candidates to qualify for recruitment in the aforesaid specialist areas. Any individual who aspires to join any of the above Public Sector Banks in one of these Specialist Officer's posts will necessarily be required to take the CWE.
Prospective candidates who wish to appear for the CWE will have to apply to IBPS and should carefully read the advertisement regarding eligibility criteria, online registration process, pattern of examination, issuance of call letters and score cards. Candidates who appear for the CWE will be able to check their status after the examination. Scorecards will be issued to candidates who secure minimum qualifying marks and above in each test of the examination.
It should, however, be noted that successful candidates in the CWE who have been issued scorecards and who meet the stipulated eligibility criteria are then required to apply to any of the participating banks they wish to as and when individual banks call for applications for the Specialist Officers' posts for which a Common written Examination has been conducted, quoting their personal details and their CWE scores.
Each bank will then individually shortlist candidates and carry out their own selection processes such as Interviews etc. for final selection. Each participating Public Sector Bank will independently issue a separate recruitment notification, specifying their vacancies and stipulating the eligibility criteria in terms of age, educational qualification, experience (if any), minimum required level of IBPS score in each test and on Total Score (if any) etc.
Post Name : Specialist Officers
Total Vacancies: Yet to decide
Educational Qualification
---
Age Limit
---
Participating Banks in IBPS Specialist Officer Exam 2013
---
• Oriental Bank of Commerce
Details of Vacancies IBPS Specialist Officer Exam 2013
---
• Agricultural Field Officers (Scale I)
• Rajbhasha Adhikari (Scale I)
• Technical Officers (Scale I)
• HR/Personnel Officers (Scale I)
• Marketing Officer (Scale I)
• Chartered Accountant (Scale II)
• Finance Executive (Scale II)
How to Apply
---
Pre-Requisites for Applying Online Before applying online,
(i) scan their photograph and signature ensuring that both the photograph and signature are within the required specifications as given in Annexure II.
(ii) keep the application fee/ intimation charges remittance details (Transaction details such as Transaction No., Branch Name & Code etc.) ready in case of Offline Payment i.e. CBS / Keep the necessary details/documents ready if desired to make online payment of the requisite application fee/ intimation charges.
(iii) have a valid personal email ID, which should be kept active till the declaration of results of this round of CWE. IBPS may send call letters for Written Examination etc. through the registered e-mail ID. Under no circumstances, a candidate should share/mention e-mail ID to / of any other person. In case a candidate does not have a valid personal e-mail ID, he/she should create his/her new e-mail ID before applying on-line and must maintain that email account.
Important Dates
---
Important Dates for IBPS Specialist Officer Recruitment 2013 Exam
• Opening Date for online registration: 10 January 2013
• Online Payment of Application Fee: 10 January 2013 to 28 January 2013
• Offline Payment of Application Fee: 12 January 2013 to 1 February 2013
• Closing Date for Online Application: 28 January 2013
• Download of Call letter for Examination: 6 March 2013
• Dates for Online CWE Examination: 16 March 2013 or 17 March 2013 (Tentative)
Important Link
---