---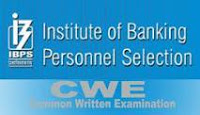 The validity of the scorecard issued for the first CWE for Clerks held in November/ December 2011 expiring in February 2013. The next Common Written Examination (CWE Clerk-II) as a pre-requisite for selection of personnel for Clerical cadre posts in the Public Sector Banks will be conducted online by the Institute of Banking Personnel Selection (IBPS) tentatively in December 2012. Any eligible candidate, who aspires to join any of the Public Sector Banks listed below as a Clerk or in a similar post in that cadre, is required to clear the Common Written Examination (CWE).
Candidates who qualify in CWE Clerk-II, will subsequently be called for a Common Interview to be co-ordinated by IBPS. Candidates, successful in qualifying in both the CWE and Common Interview will be listed in the order of merit. Depending on the vacancies in each bank of his preference, candidate will receive through a computerised system an offer from one of the Participating Public Sector Banks listed below.
Vacancies remaining unfilled on account of candidates declining offer, will be filled from among the remaining candidates, through subsequent iterations. This system of CWE and common interview for recruitment of Clerical Cadre in Participating PSBs has the approval of the appropriate authorities.
Candidates intending to appear for Common Written Examination will have to apply to IBPS after carefully reading the advertisement regarding the process of examination and interview, eligibility criteria, online registration process, payment of prescribed application fee/ intimation charges, pattern of examination, issuance of call letters etc.
Participating Banks in IBPS Clerk Exam 2012
---
Allahabad Bank

Indian Bank

Andhra Bank

Indian Overseas Bank

Bank of Baroda

Oriental Bank of Commerce

Bank of India Punjab National Bank

Bank of Maharashtra

Punjab & Sind Bank

Canara Bank

Syndicate Bank

Central Bank of India

UCO Bank Corporation

Bank Union Bank of India

Dena Bank

United Bank of India

IDBI Bank Vijaya Bank
Age Limit
---
Minimum: 20 Years Maximum: 28 Years
The maximum age limit specified is applicable to General Category candidates. There is are relaxation to various categories as per Govt laws.
Educational Qualification
---
Degree in any discipline from a recognized University or any equivalent qualification recognized as such by the Central Government.
Computer literacy: Operating and working knowledge in computer systems is mandatory i.e. candidates should have Certificate/Diploma/Degree in computer operations/Language/ should have studied Computer / Information Technology as one of the subjects in the High School/College/Institute.
Proficiency in the Official Language of the State/UT (candidates should know how to read/ write and speak the Official Language of the State/UT) for which vacancies a candidate wishes to apply is preferable.
Ex-Servicemen who do not possess the above civil examination qualifications should be matriculate Ex-Servicemen who have obtained the Army Special Certificate of Education or corresponding certificate in the Navy or Air Force after having completed not less than 15 years of service in the Armed Forces of the Union.
Structure of Online Examination
---
1. Reasoning 40 Questions
2. English Language 40 Questions
3. Numerical Ability 40 Questions
4. General Awareness with special reference to Banking Industry 40 Questions
5. Computer Knowledge 40 Questions
There will be penalty for wrong answers marked in the Objective Tests. For each question for which a wrong answer has been given by the candidate one fourth or 0.25 of the marks assigned to that question will be deducted as penalty to arrive at corrected score.
Each candidate will have to secure a minimum standard score in each of the tests as well as on the Total Weighted Standard Score to be called for interview.
How to Apply
---
Candidates can apply online only from 15.10.2012 to 05.11.2012 and no other mode of application will be accepted. Procedure for applying online
(1) Candidates are first required to go to the IBPS's website www.ibps.in and click on the Home Page to open the link "Common Written Examination" and then click on the option "CLICK HERE TO APPLY ONLINE FOR CWE- Clerks (IBPS-CWE-Clerk-II) December 2012" to open the On-Line Application Form.
(2) Candidates will have to enter their basic details and upload the photograph and signature in the online application form. Candidates are required to upload their photograph and signature as per the specifications given in the Guidelines for Scanning and Upload of Photograph and Signature (Annexure II). Mode of Payment Candidates have the option of making the payment of requisite fees/ intimation charges either through the ONLINE mode or the OFFLINE mode:
Important Link
---
For Complete Details, candidates are advised to check the Detailed Advt and Notification at the Official Website here